Gentle Flow w/ Essential Oils
This class is taught by: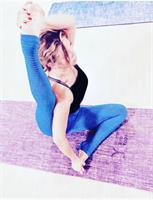 I am a native of Ecuador and moved to the U.S. when I was 18 years old. At the age of 16, I was a professional ballerina for the Ecuadorian Ballet Company for several years. After dancing, I became certified in Spin, Zumba, Step Aerobics and as a Personal Trainer.
My yoga journey began 6 years ago. I just had my 4th child, moved from Hong Kong to San Diego and weighed over 200 lbs. Because it was so hard on my body, I found it difficult to go back into high impact classes. Instead, I turned to yoga.
I tried many different studios and various styles, but I found that yoga was not always accessible to me. The classes were busy, there were no hands-on adjustments and there wasn't any personal attention to my physical needs. But even through all of this, I could see how yoga was able to improve my overall wellbeing. Through yoga, not only was I able to find a healthy balance mentally, physically and spiritually, but I was able to achieve the best shape of my life.
After this transformation, friends began to ask me what I had been doing to find this overall balance in my life. From then on, I started teaching yoga in my garage as a way to give back this amazing practice I had found! When the classes in my garage started to fill up, I decided to become certified as a 200hr RYT in order to help others.
Before opening both studios, I spent several years as an experienced 200hr RYT, and became certified in Yin/Restorative, Tone Up (yoga with weights) and Bikram (hot yoga). Recently, I also obtained my 500hr RYT.
I founded Elite Yoga to create a community where yoga is accessible for all types of people. Whether you've been practicing yoga for years or are just starting out, Elite Yoga offers you a space to find support, hands-on adjustments, no judgment and caring, compassionate instructors. Elite Yoga seeks to improve your health one class at a time. Elite Yoga's boutique style studios are committed to offering daily yoga classes to better the physical health, emotional wellbeing, mental clarity and a joy of living in each and every one of our clients!
I have also been married to an amazing business owner for 27 years and have 4 wonderful children. My two oldest are in college at Point Loma Nazarene University, and my two younger children attend The Bishop's School and The Gillispie School in La Jolla. We have lived in La Jolla for several years and love finding ways to give back to this community!
Jenna Miller
200-hr E-RYT, Holistic Health Practitioner
Jenna creates a full mind-body-spirit experience for her students. Through intelligent sequencing, deliberate cues and mindful breath, Jenna's classes provide an opportunity to relinquish the hustle and bustle of a busy world, and settle into the moment. She encourages her students to look within and listen to their own innate wisdom.
Outdoor adventurer, traveler and life-long learner, Jenna finds inspiration in nature and the human body's amazing capacity for healing. She has completed over 1,500 hours of study in wellness, including certifications in yoga, reiki, nutrition, herbs and meditation. She has been teaching yoga since 2008, based out of Encinitas, CA.
Jenna teaches yoga, meditation and wellness programs in the US and abroad. She believes in delivering yoga in a way that is accessible, effective and applicable to a modern lifestyle. Outside the yoga studio, Jenna enjoys hiking the Pacific Northwest, getting her feet wet at Cardiff Reef, and reading non-fiction books in her hammock.
Mike took his first Yoga class in 2003 and in 2011 completed his teacher training at the Chula Vista Yoga Center. He has continued his education with certifications in Yoga for Veterans with PTSD, Restorative/Yin Yoga and classes at Loyola Marymount University.
Mike's classes are demanding and kind. They are intended to help others shift and change perspective of their physical and internal worlds.
Beyond the mat Mike is a graduate of the University of San Diego. He is an avid traveler and songwriter.
Mike is an ERYT-200.
Our all-levels Vinyasa style class with the essential oils twist for guests who love aromatherapy to help calm your mind and set your body at ease.
Upcoming classes: