L1.5 Vinyasa -Non-Heated
This class is taught by: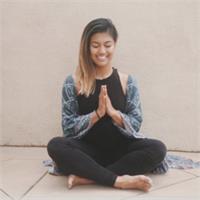 Danielle graduated from our Elite Yoga Teacher Training in November 2015.
Danielle currently lives in the beautiful city of San Diego, California. She is currently attending Arizona State University online and majoring in Interdisciplinary Studies with a focus on Business. Prior to this, Danielle was born and lived in the Philippines where she competed in meets as a gymnast for the Club Gymnastica Makati for 5 years. She remained active her whole life and participated in soccer, cheer, ballet and hip hop dancing. In 2008, she discovered yoga while still attending high school. Going into college and dealing with the business of life, it was hard not to be weighed down by the stress that the day to day life brought. Trying different styles of yoga (including but not limited to hot yoga, Bikram yoga, yoga sculpt, Yin/Restorative) she was greatly amazed by how yoga has been a great vessel in helping transform her physically, emotionally and most especially mentally. After meeting Alexandra (Alex) Arias, she was hired to work at Women's Elite Yoga as an Assistant Manager. This has been a great opportunity and a blessing as it helped her stay committed and to nurture her practice. As time went on, Women's Elite Yoga set up a teacher-training program that Danielle decided to participate in. After hours and dedication and practice, Danielle graduated from the Elite Yoga Teacher Training in November 2015 (ran by Meghan Kruljac, Alyssa Moeller, and Alexandra Arias) and got certified for her 200-HR approved by the Yoga Alliance. Since then Danielle has been teaching for Elite Yoga and has grown even more passionate about the wellness of her community. She has also grown in her managing abilities and has been promoted as Elite Yoga's Senior Manager.
I am a native of Ecuador and moved to the U.S. when I was 18 years old. At the age of 16, I was a professional ballerina for the Ecuadorian Ballet Company for several years. After dancing, I became certified in Spin, Zumba, Step Aerobics and as a Personal Trainer.
My yoga journey began 6 years ago. I just had my 4th child, moved from Hong Kong to San Diego and weighed over 200 lbs. Because it was so hard on my body, I found it difficult to go back into high impact classes. Instead, I turned to yoga.
I tried many different studios and various styles, but I found that yoga was not always accessible to me. The classes were busy, there were no hands-on adjustments and there wasn't any personal attention to my physical needs. But even through all of this, I could see how yoga was able to improve my overall wellbeing. Through yoga, not only was I able to find a healthy balance mentally, physically and spiritually, but I was able to achieve the best shape of my life.
After this transformation, friends began to ask me what I had been doing to find this overall balance in my life. From then on, I started teaching yoga in my garage as a way to give back this amazing practice I had found! When the classes in my garage started to fill up, I decided to become certified as a 200hr RYT in order to help others.
Before opening both studios, I spent several years as an experienced 200hr RYT, and became certified in Yin/Restorative, Tone Up (yoga with weights) and Bikram (hot yoga). Recently, I also obtained my 500hr RYT.
I founded Elite Yoga to create a community where yoga is accessible for all types of people. Whether you've been practicing yoga for years or are just starting out, Elite Yoga offers you a space to find support, hands-on adjustments, no judgment and caring, compassionate instructors. Elite Yoga seeks to improve your health one class at a time. Elite Yoga's boutique style studios are committed to offering daily yoga classes to better the physical health, emotional wellbeing, mental clarity and a joy of living in each and every one of our clients!
I have also been married to an amazing business owner for 27 years and have 4 wonderful children. My two oldest are in college at Point Loma Nazarene University, and my two younger children attend The Bishop's School and The Gillispie School in La Jolla. We have lived in La Jolla for several years and love finding ways to give back to this community!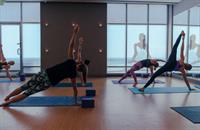 WEY L1.5 is a non-heated Vinyasa class open to beginner and intermediate yoga students. This class will help prepare you to transition from a L1 to a L2 class as it works to build strength, stamina, and increase flexibility.
Upcoming classes: