Heidi Ng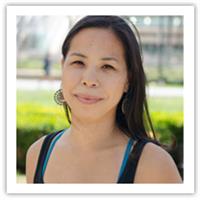 Heidi was originally drawn to yoga as a physical practice, especially as it creates balance in the body. Eventually she came to learn that increasing flexibility in our bodies can be a gateway to gaining flexibility in our minds. For her, yoga is an exercise in transcending the belief that our thoughts and emotions are who we are. She takes inspiration from the idea of "wabi sabi," the Japanese art of seeing beauty in imperfection, acceptance of transience, and finding profundity in nature. Although we are far from perfect, yoga reminds us that we are all whole.
Heidi's classes are heavily influenced by the Iyengar, Vinyasa, and Yin traditions. Her style is adaptive, balanced, creative – and sometimes a bit irreverent. When Heidi's not practicing yoga, you can find her cooking, studying foreign languages, or planning her next trip abroad.
Heidi Ng instructs the following:
A non-heated power yoga class for intermediate to advanced yoga students. EY Power Vinyasa Yoga is a challenging and dynamic Vinyasa series that works to build strength, stamina, and increase flexibility. This class will continue to challenge your mind and body.