Katie Clemons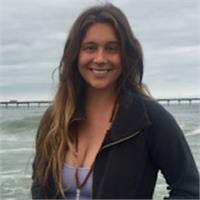 Originally from North Carolina, Katie's yoga journey began twelve years ago when she starting practicing yoga with her Mom. Shortly after she moved to Los Angeles in 2012, Katie realized she would need to find a way to calm herself in a busy new city. She fell in love with yoga's ability to steady both her mind and body, while also challenging her physical and mental strength. Eager to share her passion for yoga with others, Katie embarked on a journey to become a 200-hour certified yoga teacher on the gorgeous beaches of Costa Rica. Now, she takes pride in sharing her true calling with others and helping her students find a deeper sense of self and inner peace. You can expect to leave Katie's classes feeling centered and peaceful with a renewed energy.
Katie Clemons instructs the following:
This non-heated Vinyasa Flow class welcomes yogis of all levels. This class uses a variety of postures to cultivate balance, flexibility, strength and endurance. Vinyasa Flow encourages students to move into and out of postures safely. There is a strong emphasis on correct alignment using the breath and meditation to quiet the mind in order to attain peace and stillness. This class will take you through sun salutations, standing poses, balancing postures, seated and reclining postures, backbends and core strengthening.