John Quirk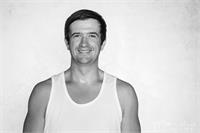 John is a lifelong athlete and yogi for the last decade who has been lucky enough to leave life as a television producer and Corporate America behind to pursue his true passion of helping others with their yoga practice and minfulness. John received his 500 RYT with Yoga Alliance through Atmananda in Union Square and has roots practicing Jivamukti, Hatha, Iyengar, Ashtanga and countless Vinyasaflows. John strives to teach the type of class he loves to take, a fun but challenging flow rooted in proper alignment and technique. He draws on all of his experiences as an athlete, television producer and student of yoga to enrich the lives of his students on and off the mat. His goal is to take the strength inside of you and help bring it out, providing students the tools to maximize their potential through self-realization and a disciplined but safe practice they can take anywhere and continue late into life. John's greatest joy is teaching and inspiring students who in turn teach and inspire him.
John Quirk instructs the following:
This non-heated Vinyasa Flow class welcomes yogis of all levels. This class uses a variety of postures to cultivate balance, flexibility, strength and endurance. Vinyasa Flow encourages students to move into and out of postures safely. There is a strong emphasis on correct alignment using the breath and meditation to quiet the mind in order to attain peace and stillness. This class will take you through sun salutations, standing poses, balancing postures, seated and reclining postures, backbends and core strengthening.