Morning Energy Flow
This class is taught by:
Mike took his first Yoga class in 2003 and in 2011 completed his teacher training at the Chula Vista Yoga Center. He has continued his education with certifications in Yoga for Veterans with PTSD, Restorative/Yin Yoga and classes at Loyola Marymount University.
Mike's classes are demanding and kind. They are intended to help others shift and change perspective of their physical and internal worlds.
Beyond the mat Mike is a graduate of the University of San Diego. He is an avid traveler and songwriter.
Mike is an ERYT-200.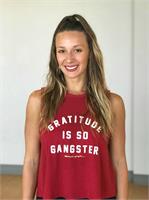 As a practitioner of yoga for over 12 years, an extensive fitness background and a degree in Psychology I have combined my love for the movement of the physical body with my interest in the human psyche to build a repertoire of holistic healing skills that transform and encourage individuals to be seek their utmost, authentic selves. I provide a range of classes from restorative, thought-provoking meditations to strong, upbeat and playful flows. I enjoy teaching a style that is firm to the roots and traditions of the ancient art of yoga while also combining my fun, lighthearted spirt. Yoga has helped me create a new relationship with myself and the way I view the world. I believe that everyone can receive something magnificent from practicing yoga and it is my goal to help you find whatever it is that you are searching for and bring balance into your everyday life. Light & Love, Dolezal, Kierstie
Revitalize with this all-levels vinyasa session, non-heated class that is designed to emphasize on uniting the breath and movement. This class will not only help you create heat in your body but will also leave you feeling reenergized by calming your mind, opening your heart, your hips and more!
Upcoming classes: