BHEEMASHAKTI YOGA!
This class is taught by: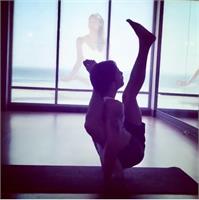 Troy is a yoga nerd. He has studied under many teachers over the course of 14 years and has read countless books on the subject. Through this experience Troy has discovered that the best teacher is one's own experience. He subscribes to the ancient aspirant's method of self discovery through disciplined practice. Troy finds many benefits to yoga and ultimately believes it is up to each student to decide what it is they are seeking. Whether it's physical wellbeing or a deeper connection with God, each goal has a specific pathway that is suitable for each individual.
The most influential experience in Troy's personal journey has been with his teachers Jonathan Patriarca (Bheemashakti Yoga School) and Master H.R. Suresh of Mysore, India. They both taught him that the ultimate yogic transformation is that of freedom. In order to attain this freedom one must understand what chains them. So through yogic practice this kind of revelation is possible and subsequently the knots may become untied.
Typically the first barrier in personal transformation can be tackled in the body and Troy has deep experience in several methods to quickly address it. He teaches a variety of techniques (kriya, asana, vinyasa, mandala rhythm) to open these physical blockages along with breathing practices to energize the body. Once the body is in balance the focus can shift to matters of the mind, where meditation and pranayama become key.
As a teacher Troy strives to help each student discover what it is they are looking for and the quickest, most practical way of achieving this goal.
Bheemashakti yoga is a style of yoga where you learn to breakdown your body's blockages through repetitive "kriyas" (deeds/actions) to help loosen up the body in ways much different than Vinyasa flows. You will also learn how to incorporate a pranayama called, Kapalabhati pranayama, which is an advanced breath technique that helps clear out your lungs, sinuses, and respiratory system.
This class is for intermediate to advanced, yet beginners are welcome!
*Please avoid if you currently have high blood pressure, heart disease, or a hernia. Not suitable for women who are pregnant.*
Upcoming classes: