*NEW* Meditative Vinyasa w/ Crystal Singing Bowl ($10 Drop-In)
This class is taught by: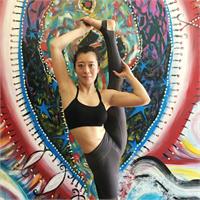 Vera Wang is a very motivated Yoga Instructor with advanced training in yoga and specialized in Vinyasa Yoga. She is certified by YOGA ALLIANCE RYT 200.
Vera enjoys inspiring others to improve wellness and commit to long-term physical and mental health.
She leads yoga classes for all skill levels from beginning to advance, teaches student to correct postures to ensure maximum benefit and safety, provides guided meditation at the beginning and the end of each class to help students center themselves and get the most out of each session.
Vera works with students with all body types and fitness levels to develop customized programs and positional adjustments that increase skill, fitness, and well being. She helps student to gain in-depth understanding of breathing techniques and pay attention to the needs of every student throughout each class.
An all-levels Vinyasa class that focuses on bringing energy into your system through engaging postures as well as meditative breath work. This class will allow your body to connect with your mind through out your whole practice.
The use of the singing bowl will allow you to cleanse and heal your physical, mental, and emotional health through its strong and powerful vibrations. Enjoy this Midday Yogi Happy Hour for $7 non-member drop-in!
Upcoming classes: