Erin Espaldon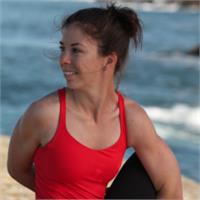 Erin discovered yoga in 2006 when she enrolled in a yoga class at her university. She initially fell in love with it because of the strength and flexibility and "cool moves" she gained from it. But it wasn't until graduate school when yoga really became a place of refuge from continual theoretical thinking and poor posture in front of a computer screen. With a foundation in Ashtanga yoga, Erin places great emphasis on breath with movement, and her style is based on the idea of meditation in motion. She teaches an athletic vinyasa flow style that balances strength and flexibility. She believes that through a consistent practice, yoga will take you where you need to be.
Erin Espaldon instructs the following:
This non-heated Vinyasa Flow class welcomes all levels of yogis. This class uses a variety of postures to cultivate balance, flexibility, strength and endurance. Vinyasa Flow encourages students to move in and out of postures safely. There is a strong emphasis in correct alignment using breath and meditation to quiet the mind in order to attain peace and stillness. This class will take you through sun salutations, standing poses, balancing postures, seated and reclining postures, backbends and core strengthening.