Nicole Wedick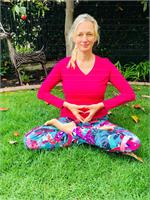 Nicole has been practicing many disciplines of hatha yoga for 25+ years including Kripalu, Ashtanga, Iyengar and Vinyasa (flow) styles. She is a certified Kripalu yoga teacher with additional training in Foundations of Ayurveda, Reiki (Level 2), Aromatherapy, Color Me Yoga for Children® and Chair Yoga. Rooted in the foundations of Kripalu yoga, students in Nicole's class can expect emphasis on nonjudgmental awareness, compassion and meditation in motion. She hopes to inspire and provide an opportunity for all bodies to experience the physical-mental-spiritual benefits achievable with the practice of yoga.
Originally from the Carolinas, Nicole relocated with her family to San Diego in 2015. She has spent the better part of her career conducting clinical trial and global public health research. She received her doctorate in nutrition from Harvard University and currently consults as an epidemiologist/biostatistician. When not running around after her two-year old daughter, she enjoys birding, quilting and vegetarian cooking.
Nicole Wedick is currently not instructing any classes.